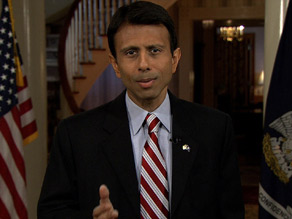 Know-nothing conservative wunderkind Bobby Jindal, tapped to respond to President Obama's NSOTU, used his national TV platform last month to
sneer at "wasteful spending,"
including "$140
million for something called 'volcano monitoring.'" (scare quotes in original)
In a bit of karmic wonderfulness, Alaska's Mount Redoubt erupted last week, allowing the USGS to educate Governor Jindal:
this is volcano monitoring
.
Bonus geek points for the USGS: Redoubt eruption updates and ashfall forecasts have their own
Twitter feed
.   "
Another explosive eruption of Redoubt volcano occurred at approximately 01:20 AKDT (0920 UTC). NWS reports a cloud top of 50,000 ft above..."

Volcanoes are cool.   Volcanoes that debunk right-wing canards are cooler.