I recently saw a woman in her late sixties who presented to the ER with severe shortness of breath. She had a history of COPD, or emphysema, due to a long history of smoking. She also had a history of Grave's disease, a thyroid disorder, which had left her with a mild residual proptosis. What happens in this condition is that for some reason there is accumulation of this gelatinous goo in the orbit, behind the eyeball, causing the eye to be displaced forward. Put simply, she looked a bit bug-eyed.

It was her breathing, though, that had captured my attention. She was not moving air well, and was becoming progressively more sleepy -- a bad sign. A blood gas confirmed that she was retaining carbon dioxide, and at this point it was clear that she was going to need some ventilatory support. In the "old days" I would have intubated her, but lately we've been trying to avoid that with what's called "non-invasive mechanical ventilation," or NIMV. What we do here is strap a mask to the patient's face to create a good seal, and attach it to a machine which blows a little extra air into the lungs every time the patient tries to take a breath. We hooked her up, and she seemed to perk up a bit, and I wandered off to make arrangements for her to go to the ICU.

Moments later, a panicked respiratory tech was grabbing me: "Come quickly! Now! Now! Her eye fell out!"
What can you say to a statement like that? I ran to the bedside, and sure enough, something like this is what I saw: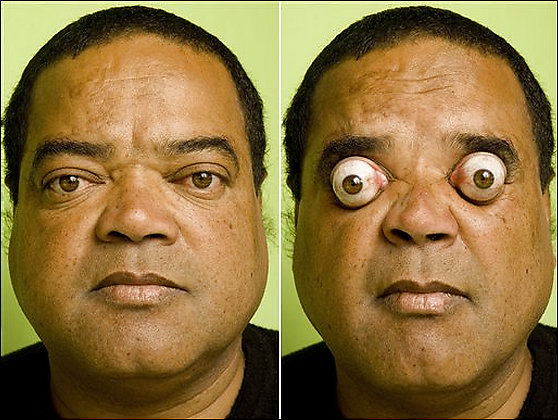 Although it was only her right eye that was out, and it was a bit further than in the picture above. It was actually drooping or dangling just a little bit, due to gravity. Oh yeah, and she was screaming bloody murder and clawing at the face mask. We removed the face mask, and stood there in complete and utter shock. Not really having any clue of what to do, I put on some gloves and gently massaged the globe back into the orbit. Once in, she felt better (no kidding!) and her vision seemed intact.

I figure that the face mask must have been putting some pressure on the nasal surface of the eye socket, and the strap, which has to be cinched pretty tightly, was putting pressure on the temporal aspect of the socket, and with the globe perched a little forward to begin with, it just got squeezed out like a zit!

Needless to say, we did not put her back on NIMV. I let the ICU doc know why she was not on NIMV, and suggested he might want to get an opthalmology consult, and sent her on up.

That was the strangest damn thing I have seen in a long time...

Any coders out there? Is there a CPT code for "manual reduction of prolapsed globe?" I bet there is; there's a CPT for everything. How many RVU's for that one?

I have the greatest job in the world.